7C-8J, I. S. Gajra Industrial Area - 1, A.B. Road,
Dewas - 455001 M.P. INDIA

Email info@fluidomat.com
6th Floor, 9 Appold Street,
London, United Kingdom, EC2A 2AP.
Email sundeep@fluidomat.com
FNIC: Drain Type Fluid Couplings for Internal Combustion Engines
Fluidomat FNIC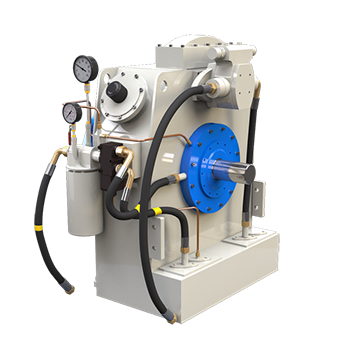 DESCRIPTION
Fluidomat FNIC are drain nozzle type fluid coupling suitable for Combustion Engine Drive.
CONSTRUCTION
The coupling is mounted on engine SAE Flange through stationary housing of coupling and connected to engine flywheel by elastic coupling provided on input shaft of coupling. The output end can be connected suitably to driven machine by a pulley, an elastic coupling or cardon shaft. It has an integrated oil feeding pump driven by the IC engine. A solenoid valve is provided to switch the oil flow either to working circuit or bypass back to oil sump. Oil filter is provided in oil line. Leak off nozzles are provided on coupling periphery. Standard accessories supplied with coupling include oil pump, filter, solenoid valve, flexible coupling on input shaft, oil temperature and pressure switch and oil level indicator.
OPERATION
During Power Transmission (clutching) operation oil flows into working circuit through oil cooler, filter and solenoid valve. Hot oil from working circuits leaks off continuously into oil sump.
DURING DECLUTCHING
The circulating oil after cooler and filter is bypassed back to oil sump without flowing into working circuit. The residual oil in working circuit is emptied by leak off nozzles and the power transmission stops with engine running (Declutching)
ADVANTAGES
No load startup of engine in declutching mode.
Continuous clutching and declutching operation simply by switching of solenoid valve.
Absorbs shock loads and dampens torsional vibrations.
Smooth startup of driven machine.
Belt slippage avoided in belt drives.
Rugged construction and high radial load bearing capacity.
Easy maintenance.
| Model FNIC | H1 | H2 | фD1 | фD2 | L | S1 | S2 | M | J | E | C1 | C2 | C3 | G1 | G2 | N | K | P | Oil Quantity in litres | 'J' Value with Oil in kg m2 |
| --- | --- | --- | --- | --- | --- | --- | --- | --- | --- | --- | --- | --- | --- | --- | --- | --- | --- | --- | --- | --- |
| 500 | 500 | 486 | 80 | 65 | 68 | 100 | 170 | 16 | 264 | 118 | 700 | 736 | 361 | 421 | 450 | 623 | 281 | 42 | 36.0 | 4.08 |
| 540 | 600 | 525 | 100 | 74 | 70 | 100 | 210 | 20 | 317 | 70 | 820 | 855 | 507 | 567 | 500 | 739 | 305 | 64 | 72.0 | 5.06 |
| 615 | 600 | 635 | 100 | 90 | 80 | 100 | 250 | 20 | 320 | 65 | 830 | 800 | 569 | 629 | 530 | 816 | 362 | 74 | 80.0 | 7.76 |